About Us
L Furniture is a multi award winning, unique and well-loved independent furniture store that has made its home in the beautiful city of Kelowna, British Columbia. We pride ourselves on providing customers with the finest and carefully handcrafted made to order Canadian furniture available. At L Furniture, our commitment to quality and craftsmanship shines through in every piece we provide, with exceptional attention to detail ensuring that each item is superbly crafted and designed to last a lifetime. We offer a wide range of exquisite and durable furniture, all of which are designed and manufactured in Canada with a focus on comfort, style, and functionality.
As for our service area, we provide a local delivery service for all our furniture products, ensuring that our customers receive nothing but the best possible service in terms of availability and delivery time. Moreover, we also provide delivery of some of our products to almost all of Canada, making it possible for many people to enjoy the beauty and quality of our Canadian-made furniture. We invite you to come and explore our luxurious collections today, and find the perfect pieces of furniture for your home or office that truly speak your style and preferences.
The timeless saying "treat as you would like to be treated" is more than just a motto at L Furniture; it is a philosophy that guides our actions both inside and outside of the office. Unfortunately, the furniture industry has gained a reputation for aggressive sales tactics and avoidance of warranty claims, but we refuse to conform to this outdated model. From the moment L Furniture was founded in 2016, we were committed to disrupting this industry norm.
At L Furniture, we believe in empowering our customers by allowing them to fully customize their purchases without the pressure of sales tactics. We offer sensible and competitive pricing that ensures our customers get exactly what they want within their budget. Furthermore, we understand the importance of quality and durability when it comes to furniture investments. That's why we have partnered with Canadian manufacturers who share our commitment to excellence and long-lasting products.
We take pride in our commitment to our customers' satisfaction and our dedication to making a positive impact on an industry that is known for taking advantage of its customers. We understand that every customer is unique, and we strive to provide them with personalized attention to ensure their experience is as smooth and pleasant as possible. At L Furniture, we believe that doing things differently is the key to building lasting relationships with our customers, and we are excited to continue to grow and innovate in the years to come.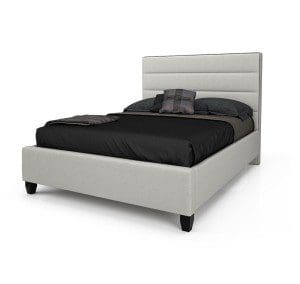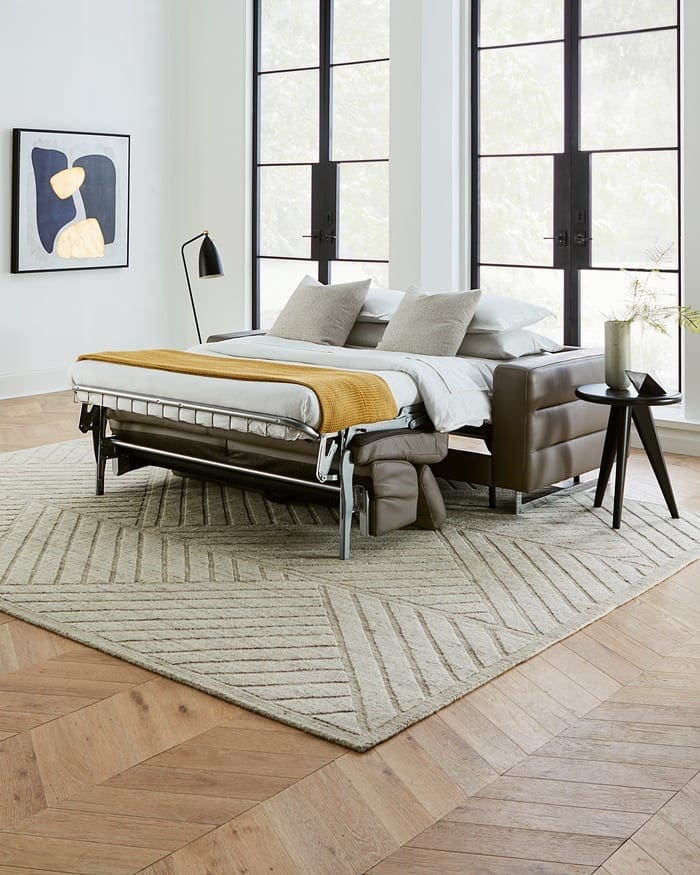 Quality Matters
At our company, we pride ourselves on delivering the highest quality products to our customers. We firmly believe that selling subpar or low-quality "garbage" products is not only a disservice to our loyal customer base, but it also creates a negative reputation for our company. That's why we carefully select and focus exclusively on Canadian brands that have withstood the test of time and have repeatedly proven to be reliable and trustworthy.
As a part of our commitment to providing superior customer service, we need to ensure that our suppliers have the same level of dedication to our customers as we do. In the rare event that things may go wrong, we need to be confident that our suppliers will work with us to resolve any issues and ensure that our customers are happy and satisfied.
We strongly believe that imported products and distant suppliers cannot match the quality and assurance that we offer our customers with our Canadian based brands. 
Sensible Pricing
We take pride in our unique business structure at L Furniture, which allows us to provide unbeatable value for our customers. Our showroom may not be flashy, and we don't rely on traditional advertising to bring in business. Instead, we rely on the strong recommendations of our satisfied customers to keep us growing.
We don't employ pushy sales staff on commission, which means that we can focus entirely on finding you the perfect product to suit your needs, without any pressure to upsell. We believe in transparency when it comes to pricing, and we never manipulate our prices to give the illusion of a "sale". Our furniture store has fewer expenses compared to others, and that helps us sell our furniture at lower prices. You can trust that our prices are always fair and competitive.
While we carry a diverse selection of products, we always make sure to prioritize quality and affordability, offering well-known brands and models at a fraction of the cost of other stores. Whether you're a professional designer, run a hotel, or simply looking to make your house a home, we are committed to providing everyone with the same great pricing and level of service.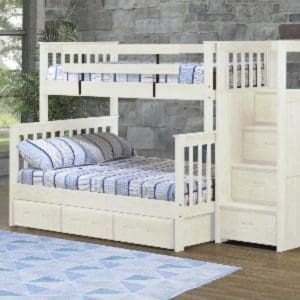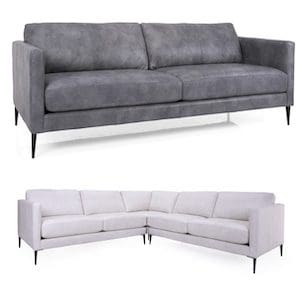 Choose Your Style:
Select from many collections from top manufacturers
Choose Your Configuration & Size:
Get the layout and sizing that fits your home perfectly
Choose Your Upholstery:
Reflect your personality in fabric or leather colour and texture
Choose Your Comfort:
Make it just right by getting the firmness of cushion you love and the seat depth you want
Choose Your Leg Option:
Add the finishing touch you want
Choose Your Stain:
There are many wonderful colour options for wood furniture
Choose Your Hardware:
Select from an array of different handle styles