Mission bunk beds include a removable ladder. This version of the twinXL/queen bunk bed has the upper bed offset from the rear of the lower bed. This allows a front ladder to be safely added. A full length rear guardrail and a removable front guardrail are included.
This combination is always extra-long for big kids and a taller version to allow 8" more headroom under the bed for comfortable seating is available. Can be separated into 2 beds or set up as a loft.
Add optional drawers or a trundle bed for maximum use of your floor space.
Ready for mattresses, no foundation required. The top of an 8" thick mattress will be 21″ off the floor on the lower bed and 57" off the floor on the upper bed. (65" on Tall models).
Twin extra-long over queen: 64″ wide x 84″ deep x 65″ high.  (Tall – 73″ high)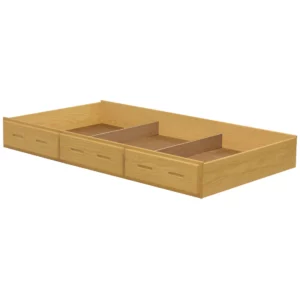 Add a mattress: Crate designs also manufacturer their own range of mattresses that compliment their custom made bunk beds perfectly. These mattresses can be shipped to most of Canada when purchased with a Crate Designs bunk bed system.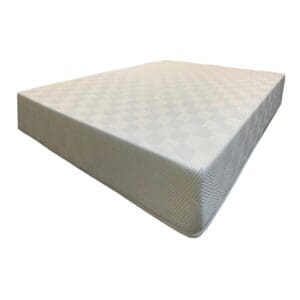 Warranty:
We guarantee that our furniture will have gaps and cracks, but will not fall apart for as long as you own it! Shipping charges for replacement parts are included during your first year of ownership.