The TWIN over FULL Bunk Bed is a custom made bunk bed that is available in a choice of different colours.  All Crate Design Bunk Beds are made from Southern Yellow Pine, have mortise and tenon joinery and are all made in Ontario, Canada. THEY COME WITH A LIFE TIME WARRANTY INCLUDED.
Both levels on this bunk have been tested to withstand over 450 pounds in weight and are recommended for adult use. This makes them ideal when using in a rental situation.
With built-in ladders at both ends, these bunk beds offer a cleverly built compact design to save you even more space. The slim frame allows this bed to fit perfectly into corners saving plenty of space for dressers, desks and more. The sturdy, wide ladder ends make it easy for kids to climb up and down. Full length removable guardrails are included for both sides of the upper bed. Options include extra-long for big kids and a taller version to allow 8" more headroom under the bed for comfortable seating. The top of an 8" thick mattress will be 57" off the floor. (65" on Tall models).
As an optional extra, extra height between the bunks can be selected when ordering, adding an extra 8 inches between the two bunks.
Please note that all prices shown do not include mattresses or bedding.
Dimensions
Bunk Bed:
Twin over full, regular: 58″ wide x 80″ deep x 65″ high
Twin extra-long over full extra-long: 58″ wide x 85″ deep x 65″ high
Optional extras:
Add a trundle: For extra storage or extra sleeping space! Our trundles come with removable drawer inserts, allowing the trundle to be converted from storage to sleeping whenever required. Mattress required for trundle must not be deeper than 6″.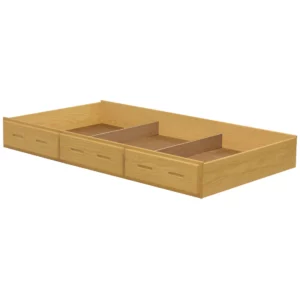 Add a mattress: Crate designs also manufacturer their own range of mattresses that compliment their custom made bunk beds and trundles perfectly. These mattresses can be shipped to most of Canada when purchased with a Crate Designs bed system.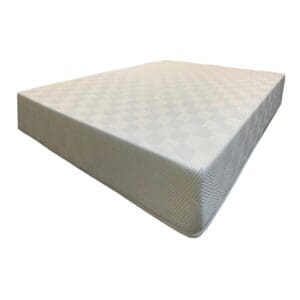 Add a ladder: Although this model is designed to have the ends of the bunk to be used as the ladder, additional ladders can be purchased if required. Always ensure that the height of the ladder selected corresponds to the height of the bunk bed ordered.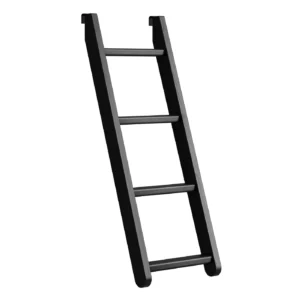 Warranty:
We guarantee that our furniture will have gaps and cracks, but will not fall apart for as long as you own it! Shipping charges for replacement parts are included during your first year of ownership.