The FULL XL Loft Bed is a custom made loft bed that is available in a choice of different colours.  All Crate Design Loft Beds /Bunk Beds are made from Southern Yellow Pine, have mortise and tenon joinery and and are all made in Ontario, Canada.
Mission Loft Beds / bunk beds include a removable ladder that can be used on the front or ends of the bed. A full length rear guardrail and a removable front guardrail are included. Options include extra-long for big kids and a taller version to allow 8" more headroom under the bed for comfortable seating.
The loft bed has been tested to withstand over 450 pounds in weight and are recommended for adult use. This makes them ideal when using in a rental situation.
Please note that all prices shown do not include mattresses or bedding.
Dimensions
Loft Bed:
Full XL: 58″ wide x 84″ deep x 65″ high. (Tall – 73″ high)
Recommended mattress for use with Crate Design's loft beds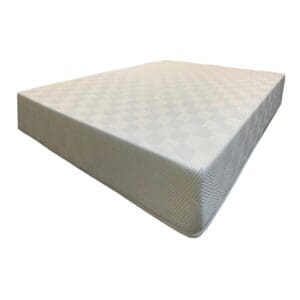 Warranty:
We guarantee that our furniture will have gaps and cracks, but will not fall apart for as long as you own it! Shipping charges for replacement parts are included during your first year of ownership.